---

Rob Blake's Desperate Cry For Help

Los Angeles Kings defenseman Rob Blake suffered what many insiders are calling "symptoms of extreme exhaustion", but what others are saying is a massive emotional breakdown.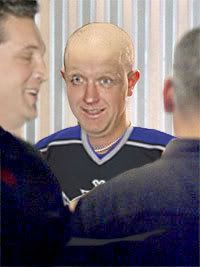 The day started out with Blake demanding to be traded, followed by a demand to have his number retired immediately, which was then followed by yet another demand for his own personal "Blake Mobile", a modified golf cart which Blake would use to transport himself from the locker room to the ice. "He had sketches and everything." said an insider, "It actually looked pretty cool. It had spinners and a whack paint job..." But following hours of negotiations, the situation seemed resolved and Blake had agreed to stay and not waive his no-trade clause.
However, when asked about the situation by reporters after that evening's game against the Colorado Avalanche, Blake became visibly angered and ran to the trainers room and shaved his head in front of an astonished Dean Lombardi. When approached by Lombardi, Blake quickly left the locker room and proceeded to leave Staples Center. He was later seen by reporters going into

Figueroa Ink

, a well known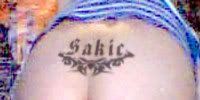 downtown tattoo parlor, where he got what witnesses are calling a

Sakic Whale Tail

. "He was talking crazy stuff. Completely insane nonsense." said a witness "He was saying that the Kings were going to win the Cup and that Shawn P. Roarke was a hockey genius. We're talking some wacky stuff, here..."
"Rob was very emotional about playing his old team. In particular, playing against some of his old teammates whom he was close to. Very close to." said a spokesman. "And upon further discussion, we have decided to agree to give Rob his "Blake Mobile". Hopefully that will calm things down."
Rob Blake was not available for comment.
###