---

The Buchwald Report


So I had a chance to speak with my good friend Ken Hitchcock the other day. I'm glad to see him working again, but I must admit that I was hoping that he wouldn't get a new job until after the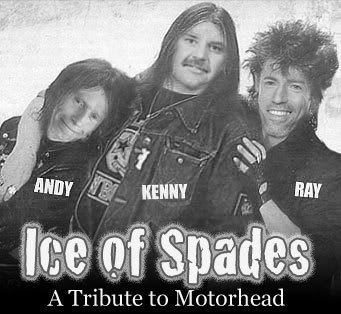 holidays. You see, Ken, new Blues coach Andy Murray and Ray Ferraro have a Motorhead tribute band called "Ice of Spades" that I was really hoping to see do a New Year's Eve show. They pretty much only play during the off-season, but for a while Ken and Andy weren't doing anything, and Ray would drop his Oilers color commentator gig in a heartbeat just to put on the wig and get behind the drum kit. But then Andy got hired by the Blues, and Kenny got picked up by the Blue Jackets, and I was back to sitting at home watching Dick Clark's New Year's Rockin' Eve all by myself. But if you ever get the chance, be sure to check out Ice Of Spades. They totally rock. For my money, Kenny does the best Lemmy around. He even wears prosthetic moles and everything.
But while Hitch and I were talking the subject turned to hockey, as it always does. He mentioned that he didn't know anything about any trade rumors, but he did have some inside scoop on some rule changes that were going to be implemented in an effort to increase scoring...
• He said that bigger nets have been ruled out, but they are going to make the pucks smaller. Also, the pucks will be colored white and covered in slippery silicone.
• Like basketball, the NHL will be using the three-point shot. Goals scored from outside the blueline will be worth 3 points. Goals scored from between the blueline and the faceoff dots will be worth 2 points.
• The schedule will be adjusted so that all teams get to play the LA Kings more often. This idea is only in it's early stages and some thing that it will result in too much scoring.


He said that there were also rumors about replacing hockey sticks with a cross-bow like device that Easton has developed, but that may be two or three seasons away.