---

Money Back Garon-tee
Los Angeles Kings vs Dan Cloutier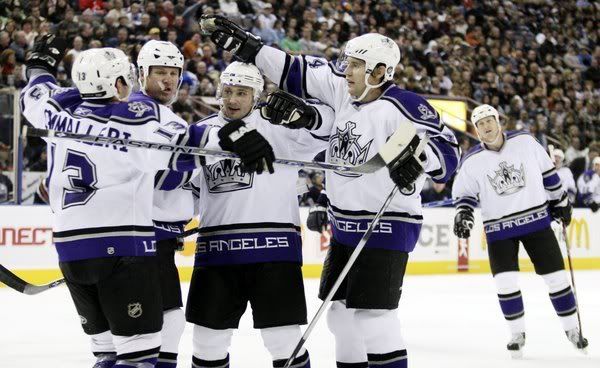 So I hope everybody had a great Christmas. My Grammy got me a new iBook like I thought

(thanks Grammy)

. Our own Reginald Buchwald got me a butter-dish shaped like a dolphin

(cuz I like dolphins)

. Guy LeMonde got me a Starbucks gift card, and on the card he wrote "$50", but my dad said I should call the number on the back to make sure. And do you know what? They said the balance on the card was $4.17. Jerkhead. My dad called Mr. LeMonde the next day and "straightened things out". And the Roenick Watch guy didn't even send a card, but I think he said he was a Rastafarian or something like that, and I don't think they celebrate Christmas.
Do you know what else I got for Christmas? Dan Cloutier out of the net

(Thanks Santa!)

. That's right, for the last 2 games, Mr. Score-your-first-NHL-goal-on-me Cloutier has been injured, and anyone and everyone who has replaced him has brought us 2 points. Now I would never wish injury to a player. Never. These guys are amazing with the amount of work they put into being a professional athlete, no matter how much they suck. It was like when I was still in school, and every year I complained and made fun of the Yearbook, then in my senior year, I joined Yearbook, and it was flippin' hard work. We busted our butts to get that thing out, and we didn't end up being able to do all the cool stuff we wanted, which sucked enough, but then people would complain about it. Sorry, but like I said, I'd never wish that on anybody. But darn if I didn't enjoy the heck out of watching the Kings beat Phoenix in OT with Brust in net, and then beat the snot out of Edmonton with Garon in net. And Anze Kopitar is a super stud muffin with sugar on top. I'm gonna do a story on him soon, I think.
Now I know this all relates to the Battered Fan Syndrome that I discussed a while ago, but I'm just enjoying this time with the Kings. My Kings. Because they love me. They really do.
~ Tickles